EYR programme fosters international research and collaborations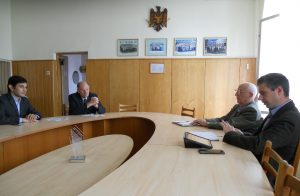 On May 10, 2018, Igbal Safarov, a researcher at the Utrecht University School of Governance (the Netherlands), visited RENAM. A meeting with Dr. Peter Bogatencov, Executive Vice-Director of RENAM, Dr. Grigore Secrieru, Chairman of the Managing Board of RENAM, and Dr. Igor Cojocaru, Director of the Information Society Development Institute, was held, during which not only many issues of Open Science Data (including overview of current situation in Moldova), social research based on data and evidence-based policy making were discussed, but also ideas for further cooperation were considered.
Igbal Safarov has been awarded the EaP Enlighten Your Research Award 2017, known as EYR@EaP2017. His research interests include Open Government Data and its usage. With the support of EaPConnect project, he has started to research open data in Eastern Partnership countries. To study the Moldova case, a workshop in Chisinau with researchers, government officials, open data activists and other relevant stakeholders was organized. The workshop gave opportunity to share ideas and discuss solutions regarding open data infrastructure, institutional aspects of open data in Moldova, conditions that maximize open data utilization and Open Government Data policy.
Open Government Data is a very significant source for policy makers, as well as for academia to apply data analytics tools and study various fields including (but not limited to) education, health care, economy, other areas of social activity. Therefore, in the Western countries ten thousands of government datasets are already released as open data. Those datasets are used for academic research, innovation building and data-driven decision making by public administration and private business.