GÉANT Association Strategy for 2021-2026
Following extensive consultation and discussion with GÉANT Association members, and subsequent approval by the GÉANT General Assembly the GÉANT Association strategy for 2021-2026 has been published.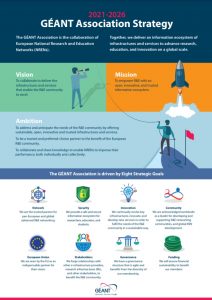 The strategy seeks to frame those activities undertaken as part of the GÉANT Association – the collaboration of Europe's NRENs and the GÉANT organisation – and how they will continue to support the wider community.
Download the full strategy document.