Meeting of RENAM Scientific and Technical Council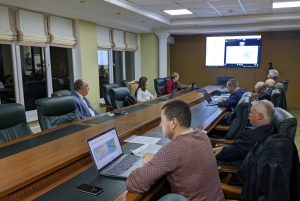 On November 4, 2022 the meeting of RENAM Scientific and Technical Council took place in the premises of the Moldova State University, where ICT services available through the GÉANT-RENAM e-infrastructure for the research and education community in the Republic of Moldova were presented.
This meeting was attended by 22 representatives of RENAM, Moldova State University, Academy of Economic Studies of Moldova and ICT departments of other universities (inclusive 9 – in online mode).
RENAM specialists reported about technical aspects and current capacities of infrastructure and interconnection services, benefits of cybersecurity services, access to advanced computing resources and Open Science support services, consultancy and training.
There were also discussed the plan for the development and use of RENAM services in 2023, the pricing policy, possibilities to support universities and expansion of the list of RENAM services upon request.